Vibrantly Colourful Outdoor Rugs to Transform Your Outside Area
When you're searching for an outdoor rug, why not embrace vibrancy and go loud and colourful? Your garden patio, decking area or balcony can be revitalised with the simple placement of a colourful outdoor rug.
Evoke sunshine and exuberance with a multicoloured outdoor rug that can lift your outdoor space like nothing else. Busy patterns are ideal for outdoor rugs as the colours can help disguise the natural accumulation of dirt and debris that comes with having a rug outside.
As experts in everything rugs, we've compiled this guide on how to choose a colourful outdoor rug, the best materials to go for, and our top picks of the excellent colourful rugs we stock.
Read on to learn more or just browse our impressive range of colourful outdoor rugs now to find one to light up your outside space today.
---
What Is the Best Material for a Colourful Outdoor Rug?
Before you look for a colourful outdoor rug, you should take these practical pointers into consideration. Plastic may sound like an unattractive option for a rug, but plastic garden rugs are eminently practical and make up a number of different materials that can look truly beautiful. Some of these rugs also boast sustainable and environmentally-friendly elements as they can be made from recycled plastic.
Brightly coloured rugs or multicoloured rugs are better suited to synthetic materials. If you opt for natural materials like jute or sisal, these will need to be dyed. That dye will fade after being in the sun for any length of time, rendering the colour dull and disappointing.
Stain-resistant, water-resistant, fade-resistant and easy to clean, synthetic rugs are the sensible choice for an outdoor space.
These materials are some of the most popular for outdoor rugs:
Polypropylene: Polypropylene is a very common material in outdoor rugs because of its strength and weather-resistant properties. A polypropylene rug will maintain its colour beautifully. Polypropylene is not only very durable but it's also soft and comfortable, created to resemble sisal. This similarity in aesthetic to sisal also means that these rugs can replicate that appealing natural quality in look as well as feel. 
Polyester: Polyester is one of the best synthetic fibres for an outdoor rug because of its stain resistance and fade resistance. If you're looking for a rug that keeps its colours, polyester is a great choice.
Nylon: Nylon shares many of the fantastic functional properties of polypropylene and polyester while also being very eco-friendly. Like polypropylene, nylon can withstand getting wet and bears well under heavy foot traffic.
---
How to Choose a Multicoloured Outdoor Rug
Once you've thought about the material, think about the size of rug you want. A rug can define a space and anchor disparate pieces of furniture together for a cohesive, put-together finish. Make sure to get your measurements in order before you buy so you know how your rug will fit into your outdoor area.
While it does help to think about how your colourful outdoor rug will fit with existing garden furniture and decoration, you don't need to worry too much about this. You could pick out the colours of any soft furnishings you have outside and match the dominant colour of your patterned rug to this.
But don't be afraid to clash colours! Bold patterns and vivid colours that you'd usually shy away from for indoor rugs are all the easier to style when they're outside and you don't have to think about how to fit your wall and floor colourings in.
---
Our Favourite Colourful Outdoor Rugs
We house hundreds of outdoor rugs in a range of styles,  including multicoloured plastic outdoor rugs. Here is a selection of our bestselling colourful rugs: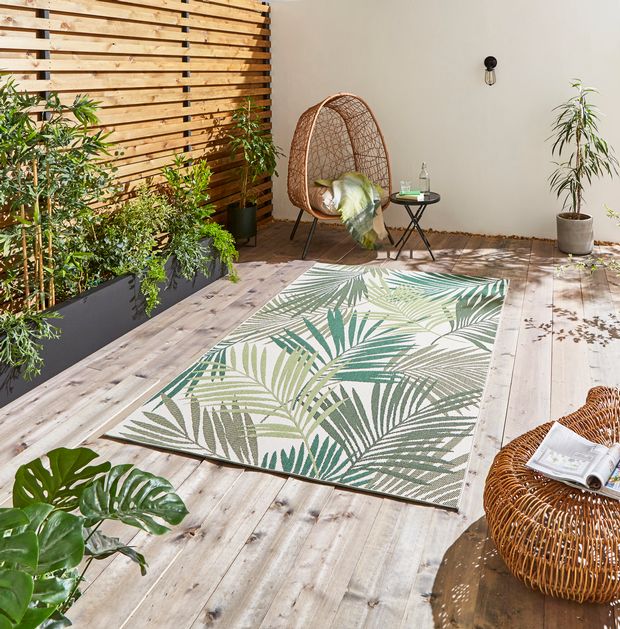 These rugs from the reliable Think Rugs are a collection of durable, easy-clean polypropylene rugs in a variety of colours and designs. Evoke the tropical summers of Miami, Florida with the bright leafy designs of these gorgeous garden rugs.
Bring the vibrance of Brighton to your outdoor living spaces with this quality range from Mastercraft. A spectrum as varied as the Brighton population awaits with these rugs, coloured in vivid reds and stunning cerulean. The durable weave of these indoor/outside rugs is made up of attractive vertical stripes that add a touch of design flair. These rugs are best used on a garden patio or a balcony where they can easily be brought inside again.
You can practically smell the sea air and hear the waves lapping in your garden with the Beach rug collection from Northrugs. Stylish patterns and contemporary colours meld the modern with the traditional for a set of durable rugs that can be the centrepiece of your garden patio.
Unleash your wild side with the Tropicana range from Oriental Weavers, featuring rugs bursting at the seams with vivid colours and vivacious patterns. Outrageous oranges and tantalising tiger stripes make these rugs stand out for a fabulous focal point like nothing else.
Intricate patterned designs in a variety of bold colours make up the attractive Jaffa rugs from Northrugs. Choose from lime greens, deep azures, rich reds and much more for this eye-catching range of indoor/outdoor rugs.
The Boardwalk rug range from Asiatic will liven up any space with the playful patterns. The colourful stripes are sure to stand out and make up a fun rug that's also incredibly soft to the touch.
---
Find The Perfect Outdoor Rug For With Rugs Direct
If you're impressed by this selection of colourful outdoor rugs, why not shop our full range of outdoor rugs to see what else catches your eye? Or if you're a fan of keeping things colourful and fun, you can look through our diverse selection of funky rugs for both indoor and outdoor placement.
Whatever kind of rug you're looking for, you're sure to find one to suit your style and budget on Rugs Direct. We're proud of our excellent customer service and easy returns system, meaning shopping with us is always a breeze. And free UK mainland delivery on all orders is just the cherry on top.
Browse our blog before you go for more inspiration on choosing and styling a wide range of rugs.